SUBMITTING YOUR APPLICATION
All prospective applicants are invited to send their complete application through the official submission e-mail which is indicated on the application form.
Your application will be considered:
i) if it reaches the Association "PRAVNIK" through official submission e-mail before the application deadline;
ii) if every question was answered and was accompanied with all necessary documents;
iii) if you explicitly agree with the RULES AND CONDITIONS of the ISSS 2015, and declare to have read them via the application form;
iv) if you received a confirmation letter from the organizers (which you should receive within 48 hours after your submission) through the official e-mail.
Please apply only using this application form.
Here is the list of most important dates:
The application process starts on 01 April 2015 at 00:01 and ends on 30 April 2015 at 23:59.
Your application should be received by PRAVNIK no later than 23:59 on 30 April 2015.
Completed applications with enclosed documents should be e-mailed to:
application@pravnik-online.info
Applicants who have been selected will be notified by 15 May 2015.
Participation fee payments will be due on 23:59 on 5 June 2015.
Certificate of Attendance
Association "PRAVNIK" awards a certificate of attendance upon successful completion of the summer school. In order to gain this certificate, participants will be expected to attend and actively participate in all classes and complete assignments required by the summer school.
Credits
ISSS does not use a credit system for the awarding of its internal degrees, and cannot award credit directly for its ISSS participation. Students wishing to obtain credit as a result of our evaluation should consult their own institutions in advance about the acceptability of the Summer School evaluation for credit purposes. The amount of credit awarded is at the discretion of individual institutions but a rough guide would suggest students completing a full 10ays of the ISS (with a 70 hour workload and a essay) might earn four (4) to six (6) semester credit hours. To compliment this all certificates will be come along with the transcript of all ISSS activities, which will outline all learning outcomes.
Evaluation Paper
EVALUATION PAPER for the purposes of obtaining credits in home institution will be issued on request.
ISSS ALUMNI EXPERIENCE WITH CREDITS
I am Irhad Strika, and I attended International Summer School Sarajevo during the summer of 2010. It was one of the most enriching learning experiences of my life, and I was able to come out of it with numerous benefits. Besides the fact that I learned a great deal about human rights, transitional justice and particular issues in Bosnia and Herzegovina, ISSS 2010, also provided me with 6 credits for my university requirements.
Year and half later, I realized that ISSS 2010 can actually help me with my university education. I decided to take advantage of the given opportunity and apply for the summer school credits at my school. The ISSS 2010 evaluation performance was delivered promptly to me as soon as I expressed the need for it from the organizers. Following the arrival of necessary documents, the process of approval went awfully easy. Alongside the university form I needed to fill out, ISSS 2010 performance evaluation was sufficient enough to get me those 6 credits approved.
I had no idea that it would be this easy to get these credits to go through. As a matter of fact, ISSS work hours/credits enabled me to go through my last year of undergraduate education with much less pressure and little less work. It really paid off to go out and get these credits approved. Hope you do the same.
Irhad Strika, ISSS 2010 participant
DORMITORIES
Participants will be staying in Franciscan Students' Hostel in comfortable double bedded rooms with shower and toilette. Roommates will be from a different country  to maintain the international character. Towels and bed linens are provided.
Public transportation is a short walk from the dormitory which is at 15 minute walking distance from the city centre.
This Hostel also accommodated participants from all previous generations and participants rated accommodation with an average grade of 4,56/5!
There will be limited number of computers at the dormitories at your disposal. If possible, bring your laptop since there is WiFi connection at the dormitories and there many coffee shops in the city with free wireless internet connection.
Accommodation in the dormitories is covered with the PARTICIPATION FEE.
VENUE
Most of the modules will be held in ISSS classroom which is located in the UNITIC Building meeting hall.
The classroom is air conditioned and has the following equipment:
Internet access CAT 6,
Distributed cables 5E for PC network,
Conference loud speakers system,
Equipments for simultaneous interpreting (meeting hall 8),
General loud speaker,
Video projections,
Modern possibilities of analog and digital recording and processing of all voice information.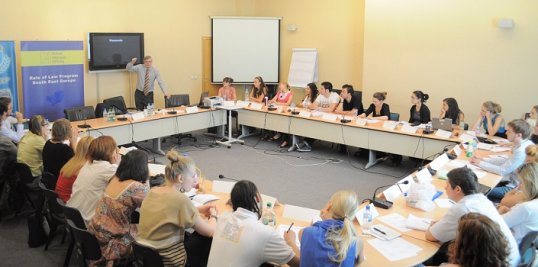 LUNCH
Lunch will be served in UNITIC Building in the Restaurant, which is located on the first floor, just in front of the ISSS classroom. Lunches will be served a la carte where your meal preferences indicated in your application form will be followed.
COFFEE BREAKS
You can have your coffee breaks in one of three coffee places inside the building or in any other around it. Average price of a cup of coffee is 1€.
Those inside the building will have access to free WiFi connection.
INFODESK
Throughout the entire summer school in the hostel lobby you will find the info desk, which will be available to answer all your questions and provide necessary information. All announcements (changes to the agenda, shuttle service etc.) will be displayed on info desk. Also, possible modifications will be announced each morning before the lectures.
TRAVEL ARRANGEMENTS
You are responsible to take care about you own travel arrangements.
If travelling by car, consider the option of travelling together. Bus and train station are not far away from the dormitories so you can simply take a 15 min walk. If you're flying to Sarajevo, check with your ISSS fellows their itinerary. Chances that some of you will arrive with the same plane are quite high since Sarajevo Airport is not so big and there aren't many connections, so you can share a cab. Unfortunately, that would be the only way to get to get to the dormitories since there is no shuttle or public transport to get you there.
MONEY AND BANKS
BiH currency is convertible mark/ KM or BAM. (1 Euro = 1,95 KM). It's easy to exchange Euros to convertible marks in many different banks in Sarajevo. Euro is not generally accepted, especially coins.
WHO CAN APPLY?
The program encourages applications from graduate and PhD students of law and related disciplines (under the age of 35), including a limited number of undergraduate students from South East Europe, Europe and the US. ISSS 2015 will accept 25 to 30 students for attendance for this year.
The program also encourages young professionals working in the area of Rule of Law, Human Rights and Transitional Justice to apply as well.
Eligibility and entrance criteria
There are three main criteria which will be taken into consideration in the evaluation process: Aca-demic requirement, Language requirement, and CSO (Civil Society Organizations) experience.
Academic requirement
The program encourages applications from law and political science undergraduate final year stu-dents and post graduate students. Basic knowledge and commitment to take part in academic discus-sions on Rule of Law, Human Rights and Transitional Justice concept is required.
Language requirement
The language of instruction is English; thus all applicants have to demonstrate a strong command of spoken and written English to be able to participate actively in discussions at lectures and workshops.
CSO experience
The association "PRAVNIK" recognizes the involvement in CSO as an important sign that proves commitment toward democratic development of any society. Thus experience in CSO sector brings an added value to every application.
Other than these criteria, selection will be dependent on a quota to respect per country and/or re-gion, aiming at respective geographical coverage.
ISSS participation fee is 200€ and it covers the accommodation, most meals and working materials. Students from Albania, Bosnia and Herzegovina, Bulgaria, Croatia, Macedonia, Montenegro, Romania, the Republic of Moldova, and Serbia are eligible to apply for a participation fee reduction of 50% (100 €).
Participation fee is due prior to your arrival.