CONFERENCES AND NETWORKING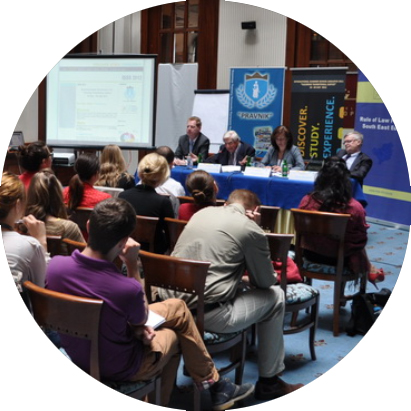 We provide opportunities to young scholars to take part in scientific conferences on different topics, both as panelists and as participants, and to network with their peers but also with academics, representatives of international organisations as well as decision makers.
After 4 successful years of the International Summer School Sarajevo and recognizing that there were benefits for alumni of different generations to meet, the idea to hold an "International Summer School Sarajevo: Alumni conference" was born. The format of the  conference was to have alumni as panelists and moderators at the conference based on topics covered at the International Summer School Sarajevo. In addition high-level keynote speakers are invited, which allows the participants at the conference not only to network between themselves but also with the keynote speakers and other high-level invitees. The first conference was held in 2011, with more than 70 alumni attending and the second, held in the Parliamentary Assembly of BiH in 2016, attracted more than 100 alumni from 10 previous generations.
With the aim of opening up the topic to the wider public, on 25 July 2012, a panel discussion open to the public on the topic "State Building and Transitional Justice" was organized within the 6th edition of the International Summer School Sarajevo. The panelists were Dr. Christian Schwartz-Schilling, Former High Representative in BiH; Prof. Dr. Eibe Riedel, LL.B. (London), A.K.C. University of Mannheim, Member of the UN Committee for Economic, Social and Cultural Rights, Holder of the Swiss Chair of Human Rights, Institut de Hautes Etudes Internationales et du Développement, Geneva, and Thorsten Geissler, Director of KAS, Rule of Law Program South East Europe.
The conference "Women, Peace and Security Agenda in Southeast Europe: How NATO and national governments translate commitments into action?" was held on July 24, 2019 in Sarajevo, with support of the NATO Public diplomacy division. The regional conference was organised during the 13th edition of the International Summer School Sarajevo. The objective of the conference was to explore how NATO demonstrates its commitment to gender equality through the implementation of United Nations Security Council Resolutions (UNSCRs) on WPS and what role the national governments in Southeast Europe play and in particular through implementation of the 1325 National Action Plans. The introductory remarks were given by the Vice-president of the Federation of BiH, Melika Mahmutbegović, and the key-note remarks were given by the Commander and Senior Military Representative at NATO Headquarters – Sarajevo, Brigadier General Marti J. Bissell, and the director of the Agency for Gender Equality of BiH, Samra Filipović-Hadžiabdić. Among the speakers at the conference were two alumni of the International Summer School Sarajevo. The conference was attended by a total of 80 participants (nationals from 24 countries and 3 continents), representatives of national institutions, police agencies, international organisations and embassies, non-governmental organisations as well as individuals.