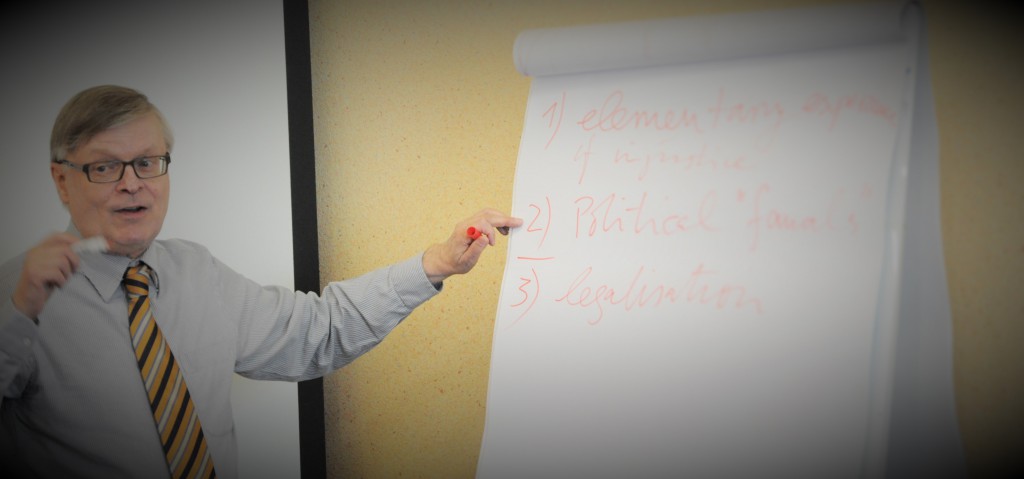 Prof. Dr. Eibe Riedel, member of the UN Committee for Economic, Social and Cultural Rights, provided students with key concepts and definitions regarding human rights, with a particular emphasis on economic, cultural and social rights.
Starting from thedefinition of human rights as "elementary experiences of injustice", Prof. Riedel offered an ample presentation of the UN system of human rights protection with a specific focus on transitional justice examples.
He also explained the importance of measuring countries' achievements in terms of human rights protection and presented a few specific tools by which this goal can be attained. Moreover, prof. Riedel challenged the students to think and International Summer School Sarajevo 2012"Tailoring Transitional Justice"18 July – 28 July 2012discuss about some of the most interesting dilemmas in human rights protection, especially when it comes to countries in transition.
Eibe Riedel is the Swiss Chair of Human Rights at the Geneva Academy of International Humanitarian Law and Human Rights, Chair of German and Comparative Public Law, European and International Law (em.) at the University of Mannheim, Germany, and a member of the UN Committee on Economic, Social and Cultural Rights.   
He studied law and theology at King's College London, and law at the University of Kiel/ Germany. He obtained his Dr. iuris in 1974 and Dr. iur. habil. in 1983. He has been a Professor of Public Law and International Law at the University of Mainz, then at the University of Marburg, then at Mannheim. Prof. Riedel has recently been appointed a Judge at the Hague Permanent Court of Arbitration. He is a Director of the Inland Navigation Law Institute, and the Director of the Institute of Medical Law, Bioethics and Public Health. He was Pro-Vice Chancellor of the University of Mannheim from 1996–2000. Prof. Riedel is currently a member of the Scientific Advisory Council at the German Foreign Office; member of the German UNESCO Commission; Chairperson, Advisory Council on Students' Fees, Baden-Württemberg; Honorary Adjunct Professor, University of Adelaide; and Visiting Professor, University of Kingston.